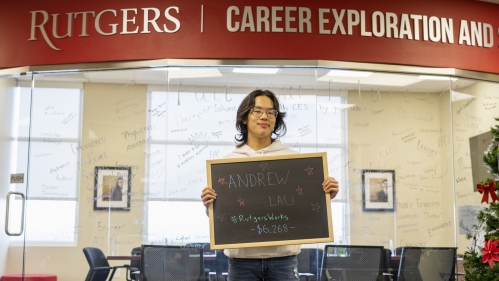 #Rutgersworks Free Tuition Challenge
Enter to Win Free Tuition
We know how hard Rutgers students work, and to show our support for your hard work and encourage you to set aside time to focus on your future, we provide you with an incentive… FREE SPRING 2023* and other prizes.
Please note the challenge does not begin until September 1.
Grand Prize
Current SAS In-state Tuition Rate
Students Participated in Last Year's Challenges
Who can participate in the challenge?
You must be a currently enrolled Rutgers University-New Brunswick undergraduate or graduate student.
What can you win?
Students with five or more stamps by the first week of each month are entered into random $10 Amazon gift card drawings. Students with ten or more completed stamps by 11:59 pm (EST) on Monday, December 12, 2022, will be entered into the grand prize drawing to win free tuition* for Spring 2023. We will also raffle off (2) $150 Amazon gift cards for our runner up prizes.
How do I get started?
Log in using your NetID and password to the game board. Earn stamps by attending our virtual events, utilizing our online tools, and engaging with our resources. If you are attending a virtual event, make sure you "swipe in" and enter your RUID in event registration and complete the evaluation. Earn extra raffle entries by completing even more stamps—(e.g., 10 Stamps = 1 Challenge Raffle Entry, 20 Stamps = 2 Entries, 30 Stamps = 3 Entries).
Questions
Create Your Game Board to Play
The challenge will open up on Thursday, September 1, 2022 and close on Monday, December 12, 2022.
Rules & Regulations:
Generally, tuition is calculated based on a number of factors. For the purposes of the challenge, tuition payment will equal no more than the equivalent of one semester of undergraduate in-state tuition ($6,450.00) as calculated in Fall 2022. Payment excludes student fees and other costs associated with attendance and enrollment.
To qualify, contestants must be a currently enrolled Rutgers-New Brunswick undergraduate student. You must be able to produce a valid RUID number.
Your participation in the game will earn you entry into a drawing if you complete any ten challenge requirements from between the game period.
Entries must be the direct work and participation of each individual contestant.
International and out-of-state students may enter the contest. If an international or out-of-state student is selected as a winner, they will receive a tuition payment equivalent to the in-state tuition rate above and will be responsible for paying the balance of their tuition cost.
Career Exploration and Success (CES) is not responsible for any failure to complete the process and procure a challenge stamp, even after you have completed the application activity. Only after achieving and activating the required number of Challenge credits will a contestant be entered into the grand prize drawing.
The winner must come to Career Exploration and Success (Gateway Transit Village location at 106 Somerset Street, 4th FL, New Brunswick, NJ 08901)* to pick up and sign for their prize. Winners must produce official identification such as a driver's license or RU ID. *This location could change due to COVID-19.
The winner must be willing to have their picture taken and provide a brief profile summary of themselves for future marketing of the program.
By participating in the challenge, contestants agree to release the use of their name, photo, image, and likeness to Rutgers University and Career Exploration and Success for use in future advertising, publicity, and media now or hereafter devised throughout the world in perpetuity, without additional compensation, notification or permission. Winners must be available and willing to be featured on social media and other marketing avenues.
Career Exploration and Success reserves the right to, at its discretion, reschedule the challenge, entry, and/or end dates, modify the entry procedures, cancel the challenge, or cancel the awarding of the prize for any reason.
Contestants must provide CES with an accurate email address and phone number. We will use this contact information to connect with the winner.
The #RUTGERSWORKS challenge is open to Rutgers-New Brunswick undergraduate or graduate students only.
#Rutgersworks Winners Spring 2022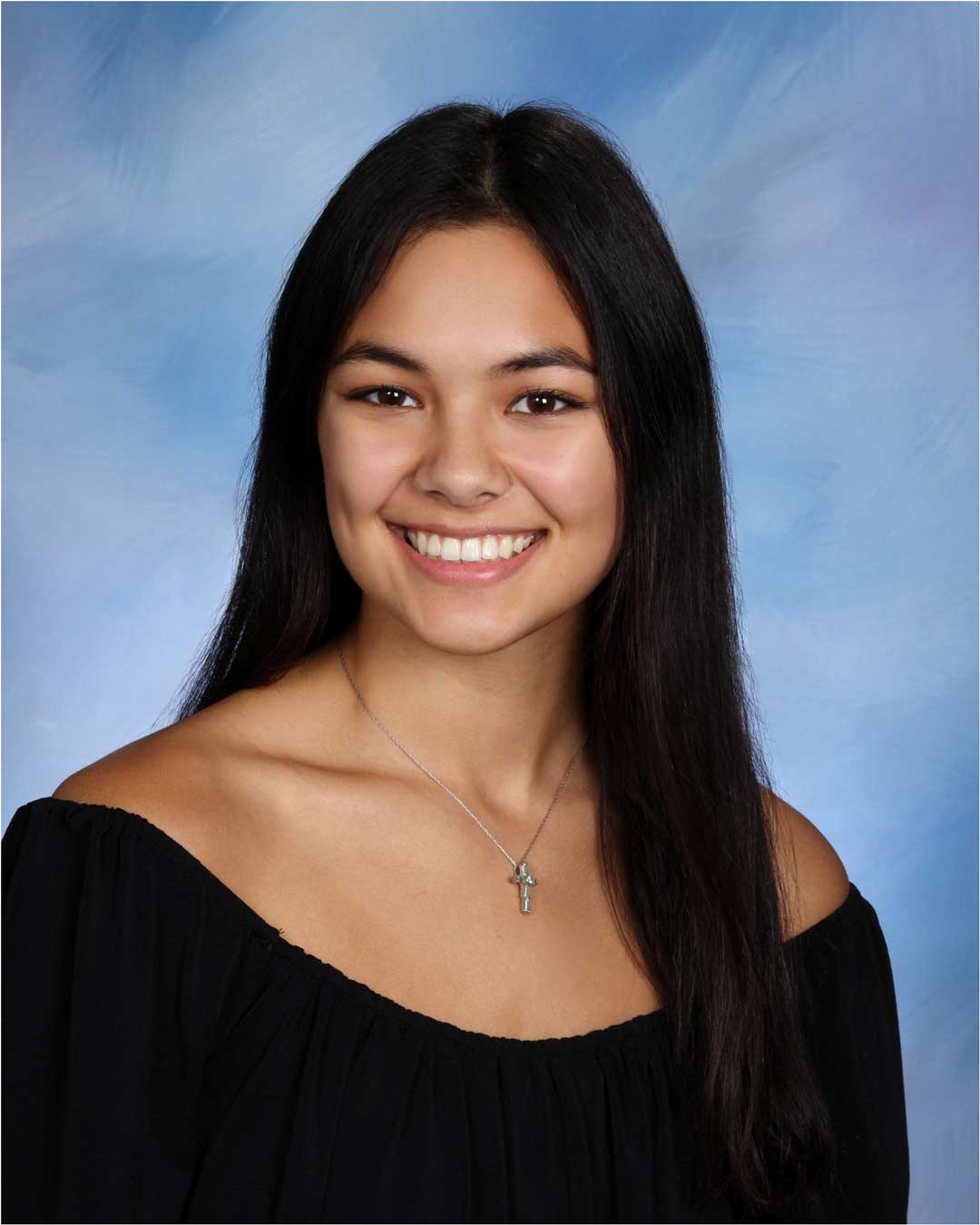 Ashley Lubas
January Winner
School of Arts and Sciences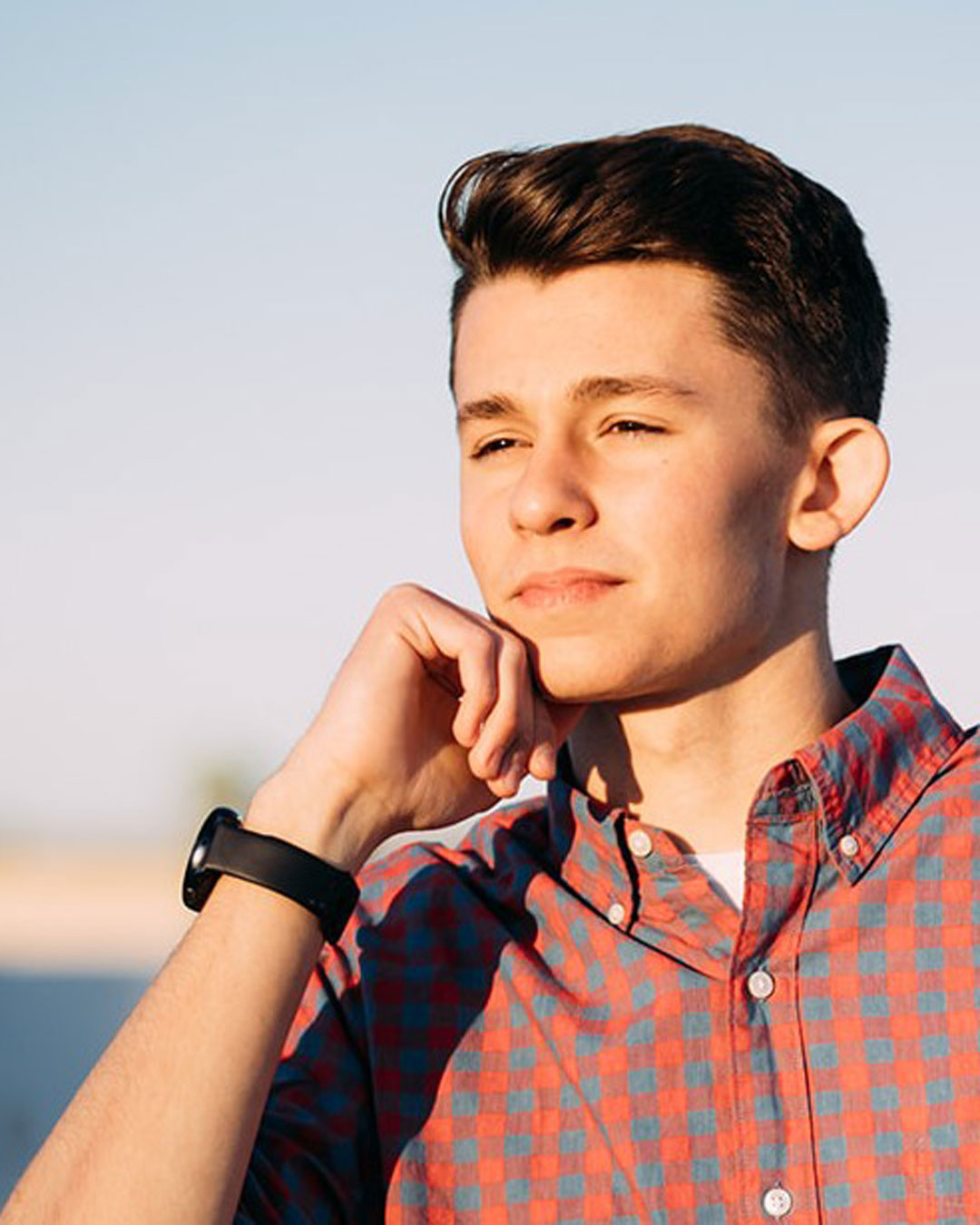 Benjamin Ewen
February Winner
School of Arts and Sciences
#Rutgersworks Winners Fall 2021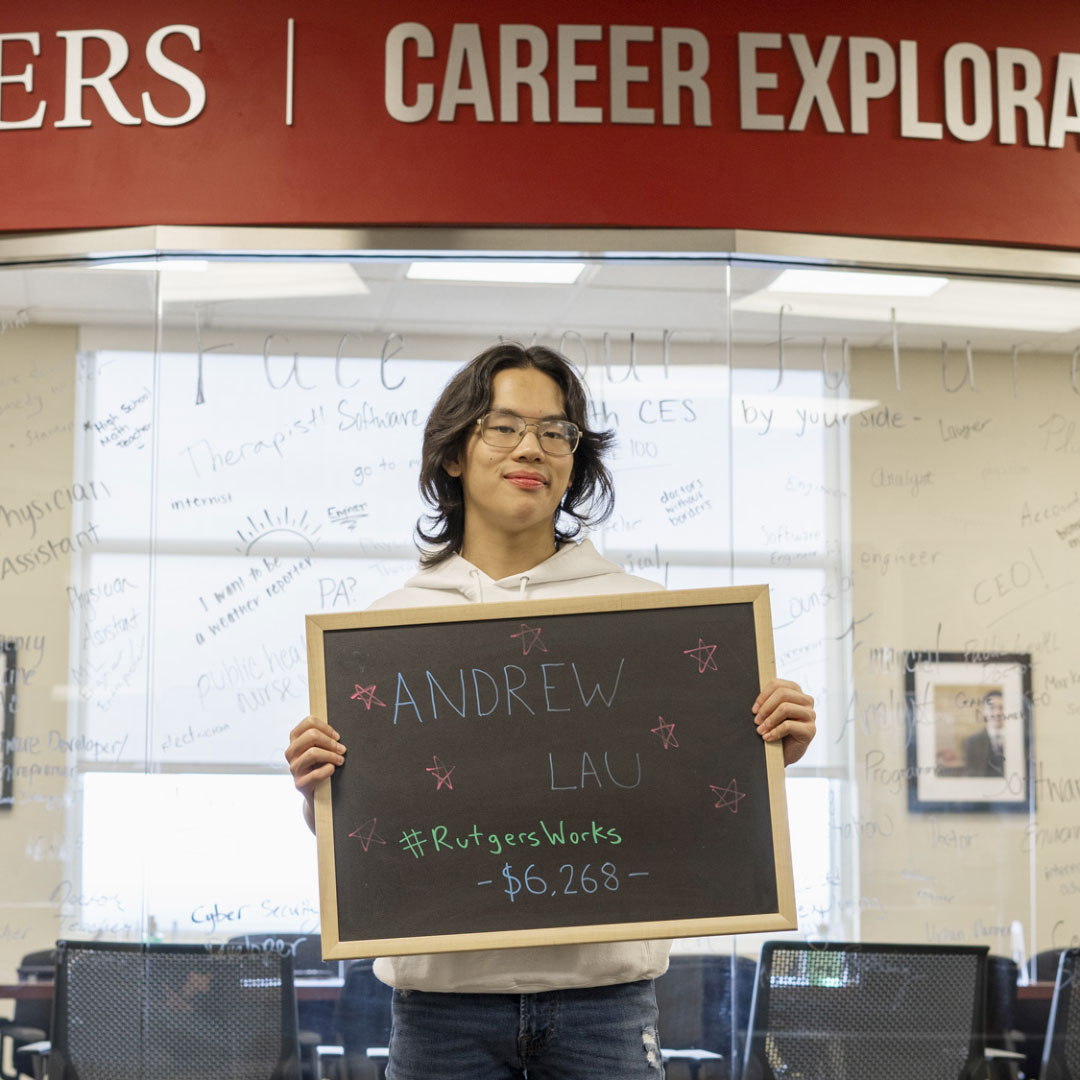 Andrew Lau
Grand Prize Winner
Rutgers Business School-New Brunswick
Not only did I learn a lot from participating in the free tuition challenge, but it also provided a way for me to explore my academic opportunities and resources.
Nishtha Trivedi
Runner-up
School of Arts and Sciences
Naishal Chiragbhai
Runner-up
School of Graduate Studies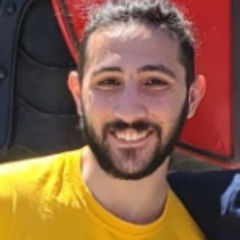 John Kurtanidze
September Winner
School of Graduate Studies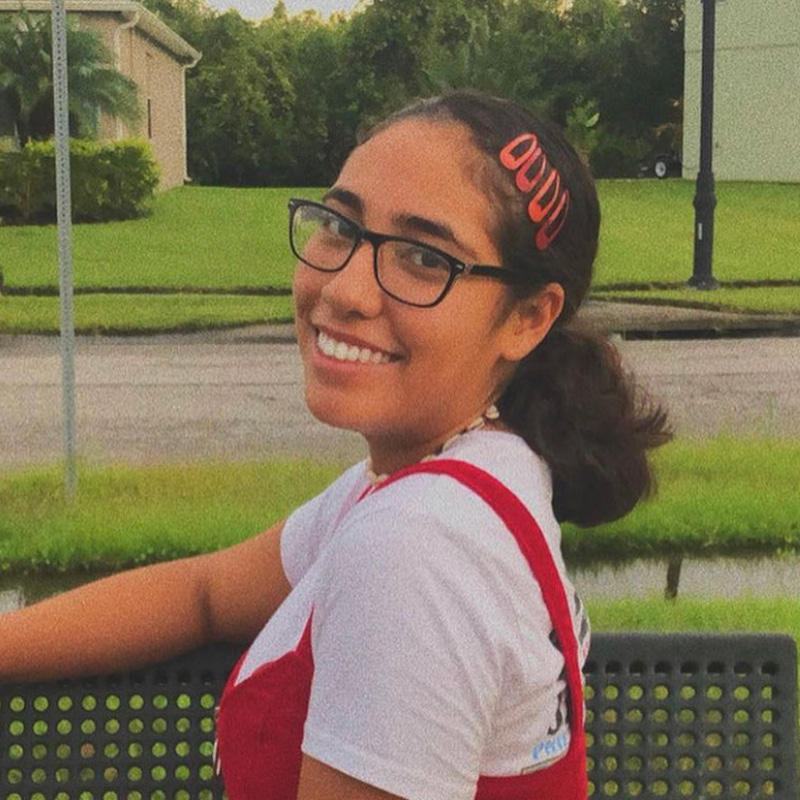 Apolonia Mendez-Crespo
October Winner
School of Arts and Sciences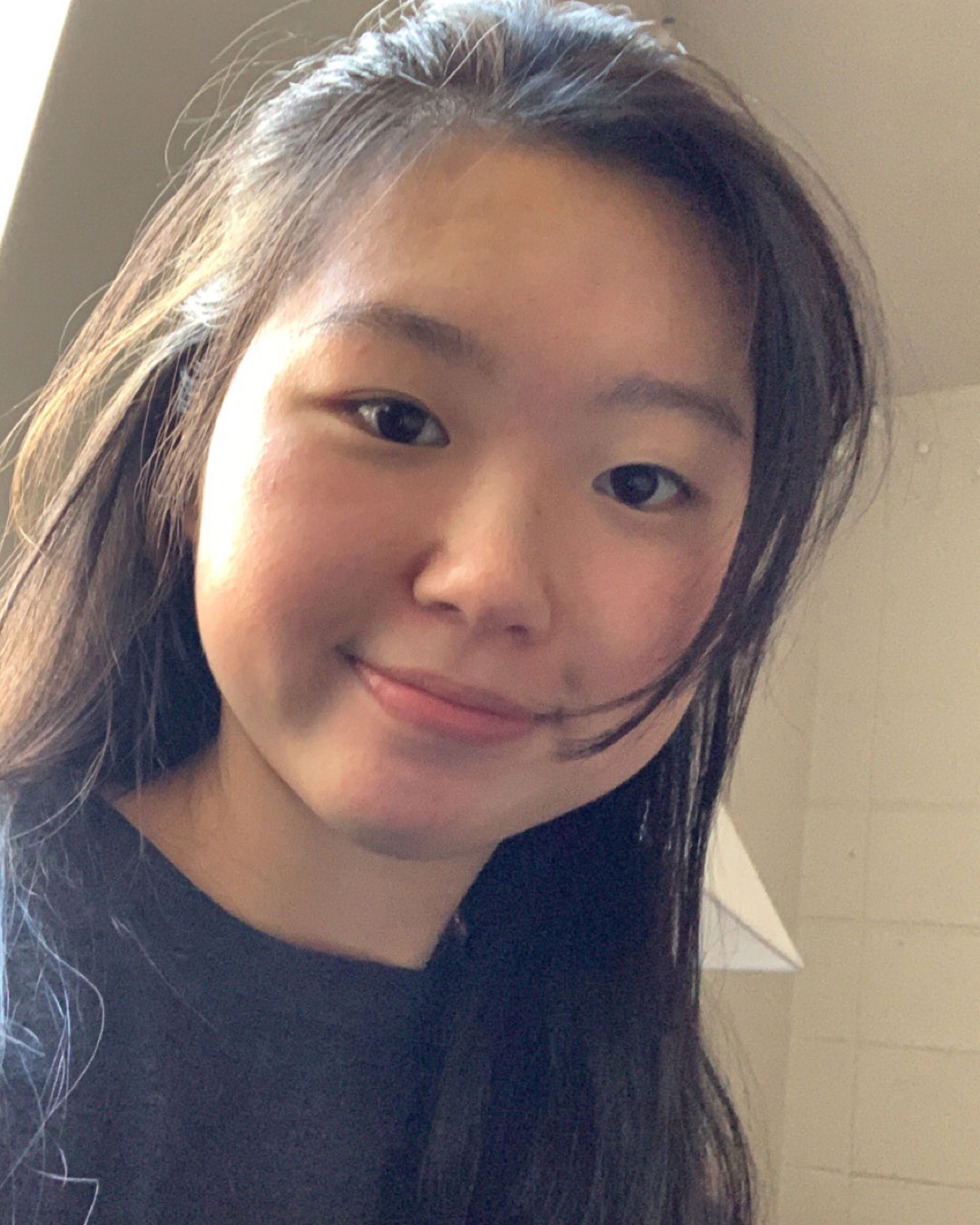 Jacqueline Kim
November Winner
School of Nursing - New Brunswick