Career Journey Model, Your Major Doesn't Always Determine Your Career
Two of the biggest decisions you will face at Rutgers are deciding what to study and what to do once you graduate. These are important decisions that require thoughtful consideration. Some students identify their choice of major and/or career early on, while others need more time to explore and research various options. The career journey model provides a framework for students to understand their own career development journey and specifically, where they are in the process. Each of the phases of the circular graphic below represents important elements of your journey and corresponds to specific tasks or goals. The model is circular because it represents an ongoing process with no specific chronology. This is a process you will revisit throughout your life, particularly when your goals change. Understanding the phase you are in and how to access the best information available will help you feel more confident with your career decision making. Ultimately, your choice of career will be the result of various experiences and not the result of one isolated decision.
Career Journey Model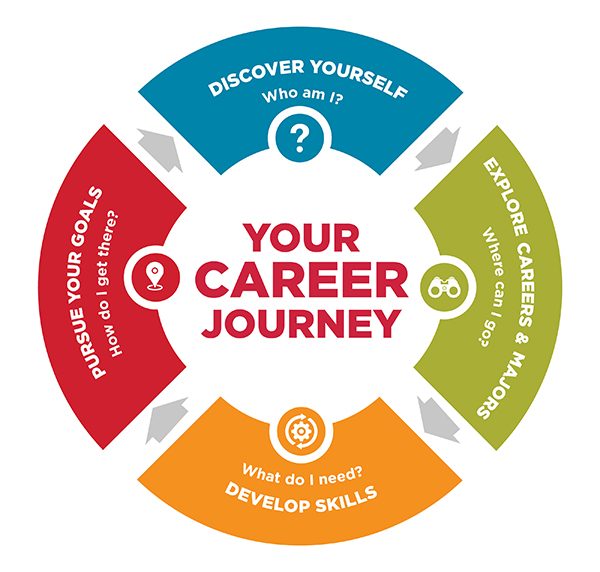 Major Doesn't Always Determine Career
Some people believe that for every occupation there is a specific corresponding academic degree. While there are occupations that do require specific academic majors for certification (e.g., nursing and engineering), many do not. In fact, many graduates are working in career fields that are not directly related to their undergraduate programs of study.
Taking time during your first two years of college to explore career options will help you determine what educational plan best suits your needs. Refer to the Four-Year Career Plan (careers.rutgers.edu) to review the First-Year and Second-Year of the 4-Year Career Plan. If you have possible career fields in mind, research educational requirements, necessary skills, pre-requisite courses, and relevant hands-on experiences. In considering possible majors, keep in mind that liberal arts majors offer a broad background in communication, critical thinking, and problem-solving skills, as well as the ability to learn. These are skills and competency areas that employers value, especially when coupled with more occupation-specific skills acquired either academically (e.g., a minor) or experientially (e.g., an internship).
Finally, be sure to schedule an appointment with a CES Career Development Specialist to come up with your individualized career plan and to identify your major and career interest community area.